Halibut Regulations 2021
New "Optional" limits
2021 Trip Limit Plan - Kyuquot is Stat Area 26/126
1 halibut 90 to 133cm (aprx 68 lbs) for a multi day trip
OR (not and)
2 halibut less than 90cm (aprx 20 lbs ea) for a multi day trip, Daily Limit 2
" All halibut retained by the licence holder shall be immediately recorded in ink on the 2018-2019
Tidal Waters Sport Fishing Licence
. The area from which each halibut is caught and its length shall immediately be recorded on license.
There are exceptions to these openings which are specific to Swiftsure Bank on Southern Vancouver Island and US vessels fishing in Cdn waters.

Also note that packaging guidelines do not apply to our certified processing plant. Our services are permitted to cut your fish into 1lb portions or what ever size you like. The following transportation regulations are only if you are NOT getting your fish vacuum packed by us and taking your fish home fresh.
---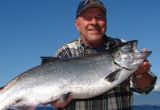 Ucluelet Spring Guided Fishing Options
Vancouver Islands best early season fishery for April and May. Salmon and Halibut aggressively feeding on the coastal banks and inshore waters of Barkley Sound. Book by the day means you can set your own agenda!
Trip Details »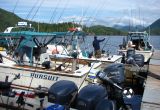 Kyuquot Summer Fishing Lodge Options
Located within minutes of the fishing grounds we are ready to serve you. All 3 night 4 day fully guided packages include meals, lodging and 4 days of incredible fishing. Be sure to check out our top of the line equipped boats!
Trip Details »