Vancouver Island BC Foremost Fishing Lodges
Murphy Sportfishing Guide Philosophy...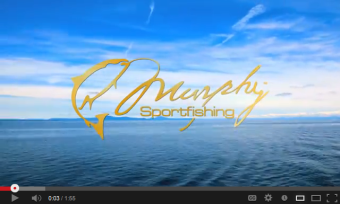 Like you we are anglers. We know what anglers need and expect on a guided Vancouver Island fishing trip. We compromise nothing at our fishing lodges when it comes to the calibre of boats, motors, equipment, fishing guides and staff.
You will be in the hands of truly professional guides who are friendly and will put you on fish everyday. On your guided fishing trip you will find great hospitality, friendly staff, clean comfortable accommodations and great food.
You can be assured that you are getting the best value for your sport fishing dollar. We have built Murphy's Sportfishing Lodges on our reputation for great fishing trips, with a customer experience second to nobody.
We look forward to meeting or seeing you again,
David and Marilyn Murphy


(brother and sister team)


Gift Certificates now available in any amount! Instant Online
---
Vancouver Island's Top Fishing Lodge Locations At Only Peak Times - Now Booking 2024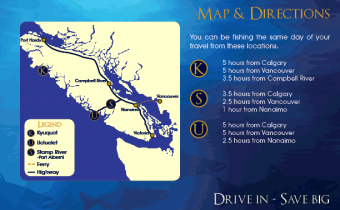 You will be fishing at only the most productive times during the peak seasons at three prime locations on Vancouver Island. Ocean locations of Ucluelet in the Spring and Kyuquot in the Summer for Salmon & Halibut. The Stamp River and neighbouring tributaries during the Fall for Salmon and Winter for Steelhead.

All of which are easy for you to get to with some less than a few hours from major departure points.

For many this means leaving home and fishing on the very same day!
Twenty five years worth of passion and skill provides you with the Salmon & Halibut fishing trip of a life time at the "Super Salmon Highway". Two lodges in one incredible place during the Summer!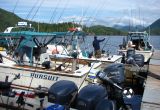 Kyuquot Summer Fishing Lodge Options
Located within minutes of the fishing grounds we are ready to serve you. All 3 night 4 day fully guided packages include meals, lodging and 4 days of incredible fishing. Be sure to check out our top of the line equipped boats!
Trip Details »
---
Thirty miles offshore during a small window every summer thousand and thousands of Albacore Tuna are thriving with our reach by speed boat. Using commercial style gear and fishing the same grounds you too can experience a fishing event of a lifetime!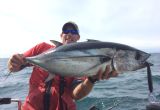 Kyuquot Tuna Salmon Halibut Fishing Combo
A full deck package which includes up to two days of offshore Tuna fishing in addition to the Salmon and Halibut Fishing. This five day package is jam packed full of action! Only during the last two weeks of August
Trip Details »
---
Ucluelet is known for the best early season Chinook Salmon and Halibut fishing available on Vancouver Island during most of May and June. Easy access via Transcanada Highway.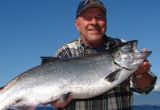 Ucluelet Spring Guided Fishing Options
Vancouver Islands best early season fishery for April and May. Salmon and Halibut aggressively feeding on the coastal banks and inshore waters of Barkley Sound. Book by the day means you can set your own agenda!
Trip Details »
---
Your angling in the heart of Canada's "Wild West Coast" on the world famous Stamp River. Home waters to returning mature Pacific Salmon and Steelhead.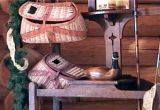 Fall Stamp River Fishing Options
Options range from simple guided day trips to all inclusive packages including meals and accommodations. You set the agenda based on how many days you would like to fish!
Trip Details »
---
Winter Steelhead are a distinct run of Steelhead that arrive to their home rivers during the months of December, January, February, March and leave during April.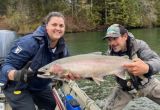 Winter Steelhead Fishing $450 per boat
Fully guided day trips with all equipment. You set the agenda based on how many days you would like to fish.
Trip Details »
---
The Most Trusted Equipment Available

Our team has been working with key manufacturers for decades developing some of the best angling equipment available on the coast today.

We pro staff for the finest of them all and contribute to those products continual innovation and improvements.