Summer - Fishing Kyuquot Salmon & Halibut
Kyuquot meets the great annual migration of mature Chinook Salmon and Halibut as they make their way down the BC Coastline. Right along the iconic "Super Salmon Highway", on Vancouver Island's wild west coast.
Regardless of the southward migrating Chinook and Coho Salmon's final destination, they all come by our doorstep as they follow the continental shelf along the coastline.
Hundreds of thousands of Chinook many destined for major systems such as the Columbia, Sacramento, Fraser and other abundant rivers come onto the shoals on the gravel banks of Kyuquot Sound to feed along their way home. These great migrations begin in early June and continue into early September. The peak is from the middle of June through the entire month of August. We are only there during its very peak and don't offer any shoulder season situations. Any and every day is the best day of the season.
The halibut live in these same waters during the summer taking advantage of the incredible feeding grounds that the local structure provides. This is what makes Kyuquot so unique, its geographic location being the closest place the continental shelf comes within Vancouver Island literally funnels halibut and Ling cod into the big grocery isles offshore Kyuquot Sound.
Learn more about the Kyuquot opportunities in the Kyuquot Salmon & Halibut Section ►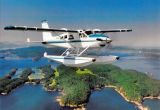 Fly In or Drive In Packages
Fly in by float plane over the scenic mountains and ocean coastline or drive in and see bears, deer and other wildlife. The choice is yours. Your adventure - Your way - Your budget!
Trip Details »