Stamp River Winter Steelhead Fishing
A historic river known for its legendary Winter Steelhead fishing. Early settlers wrote about these beautiful fish and we are fortunate to still enjoy fishing for them today.
The Fishery
| | | |
| --- | --- | --- |
| One thing that is very unique and is deeply embedded into the culture of west coasters is Steelhead fishing. Here in the southern part of BC our Steelhead season starts as winter arrives. Cold high water keep these fish hunkered down in the deepest parts of the river, conserving as much energy as possible, only showing themselves when they are attached to the end of our lines. | | |
On every anglers bucket list The Stamp River has become the number one winter Steelhead destination in BC.
Learn More ►
The Service
Your guide team are year round professional anglers who will coach you through every intricacy of the fishery in a way that translates into results. You will be fishing from a jet boat or a drift boat depending on the current water and fishing conditions
Learn More►
The Setting
Every boat is equipped with a heater. Combine this with some warm cloths and a fishing licence and your adventure is underway! Only an hours drive for international airports and ferry terminals make this location easily accessible and since there is no remote fly ins, you can stay as little or as long as you like! So close yet surrounded by nature.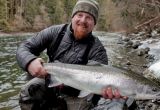 Winter Steelhead Fishing $450 per boat
Fully guided day trips with all equipment. You set the agenda based on how many days you would like to fish.
Trip Details »