Spring - Fishing Ucluelet Salmon & Halibut
Ucluelet offshore waters are teaming with aggressively feeding Chinook on Vancouver Islands west coast during the months of April, May and Early June
Abundant feeding Chinook spend months in the Ucluelet area on one of the most prolific early season fishing grounds on the BC's coastline. Commercial fishermen for nearly a hundred years have made their livelihoods on these same productive waters.
These Chinook are from a variety of abundant systems and are in their "teen" years, mostly two and three year olds with the occasional mature "brute" mixed in. These early big fish are likely mature early run Columbia Chinook. Catching the limits is the norm here and it can happen quickly.
The Ucluelet area is also known during these months as the "Chicken Halibut Capital". These fish are 15 – 25 pounds are can be thick at times.
Learn more about the Ucluelet Spring fishery in the Ucluelet Salmon & Halibut Section.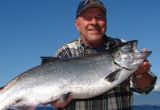 Ucluelet Guided Day Trips
Vancouver Islands best early season fishery for April and May. Salmon and Halibut aggressively feeding on the coastal banks and inshore waters of Barkley Sound. Book by the day means you can set your own agenda!
Trip Details »