Winter - Fishing Stamp River Winter Steelhead
The iconic Stamp River Steelhead on Vancouver Island make their way up the Stamp River in various runs throughout the winter months of December through April.
In the early 1900's early settlers wrote to home about the great silver fish in the Stamp River. These were and are today the legendary Winter Run Steelhead.
This beautiful chrome salmon like fish is unique because it does not die after spawning. Like a rainbow trout it fully recovers, but instead of living in the lakes and rivers it heads back out into the high North Pacific Ocean for another year and sometimes two years before returning to spawn again.
The Stamp River Steelhead are seldom seen until they are on the line because their camouflage is so good they have been nicknamed "the ghost". They fight hard and can be highly acrobatic. There are both wild and hatchery Steelhead on the Stamp River and hatchery Steelhead can be retained.
The run timing varies as they come in various smaller runs through November, December, January and February. The one thing they have in common is that they all spawn in the month of April. During this time they are the colours of a dark rainbow with brilliant pink cheeks. They feed again on terrestrials and head back to the ocean.
Learn more about how you can meet up with one of these "legends" in the Stamp River Winter Steelhead section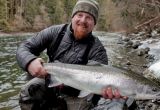 Winter Steelhead Fishing $450 per boat
Fully guided day trips with all equipment. You set the agenda based on how many days you would like to fish.
Trip Details »