Ucluelet Salmon and Halibut Fishing Guides
Vancouver Island's west coast guided fishing trips for early season Salmon and Halibut fishing during May and June in Ucluelet BC. If you like action and taking home allot of fish in a short period of time, then this is the place for you. This is our 25th season in this area.
The unique location of Ucluelet offers an easy paved road access to the most early season prolific fishing spot in British Columbia.
Massive
schools of Chinook and Halibut find their way to the large shoals located off of Ucluelet during the middle of spring.
"Thanks Dave for the quick weekend get away with my son. We didn't expect to catch that many fish and our guide Kevin was fantastic with my son on his first ever trip. See you next year!
Bob Haldon - Victoria, BC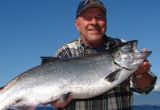 Ucluelet Guided Day Trips
Vancouver Islands best early season fishery for April and May. Salmon and Halibut aggressively feeding on the coastal banks and inshore waters of Barkley Sound. Book by the day means you can set your own agenda!
Trip Details »