Your Catch
During Your Trip
Fish are bled immediately upon catch and stored in the vessels cool "fish holds"
On the way in from fishing while in the harbour your guide will dress your fish and ask you if you would like your fish left whole with the head on or filleted. Your preferred treatment should depend on what you plan for your catch (see below)
Getting Your Catch Home
You have three options for getting your fish home, leave it with a processor for smoking/canning or overnight cutting/flash freezing. We will help you with those details:
1.) Custom Processing (shipped to you at a later date)
Fish that you want processed by smoking, canning, or vacuum packing for delivery at a later date, can be dropped off at St. Jean's.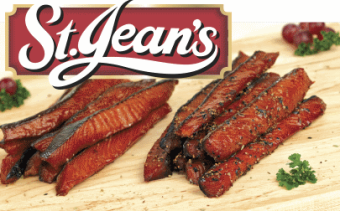 They can ship your fish home Fed-Ex or they offer free shipping to any of their locations for pick up.
Visit their
website for more details.
We personally use their service and it is great.
St. Jean's Depot
c/o UKEE Seafoods
2066 Peninsula Road
Ucluelet V0R 3A0
250-726-6647
Smoked and Canned only

Processors like to receive Salmon dressed in the round (whole) if they are smoking, vacuum packing, or canning. Bottom Fish will be filleted with skin left on.
2.) Overnight Custom Cutting & Vacuum Packing
If you are staying overnight in Ucluelet before leaving next day you can have your fish custom cut and vacuum packed by Fishful Thinking. They will cut into portions of your preference, vacuum pack, flash freeze and pack for flight with air friendly legal boxes and gel packs.
For speed of getting the overnight jobs done, have these fish filleted on site by your guide in advance. This will help expedite the overnight process.
Fishful Thinking
1914 Peninsula Rd
P.O Box 1189
Ucluelet B.C. V0R 3A0
Tel: 250-726-2000
Click here for a map
Ukee Seafoods
2066 Peninsula Road
Ucluelet V0R 3A0
250-726-6647
3.) Bring Your Catch Home with you Fresh
If you are bringing your fish home fresh and coming by vehicle from your home bring a big cooler (100-150qt) (1 per 3 people) to bring you fish home in. Your fish will be bagged and ice is available in the village of Ucluelet. Depending on how far your drive is and the weather, You may have to top up with ice again on route.
We can fillet your catch or leave the salmon in the round (head off/cleaned).