How To Fillet A Halibut
After a good day of Halibut fishing here is some simple steps on how to fillet your catch.

Choosing your knife is equally important to how you make your cuts.

A nice long flexible blade is key and keeping it razer sharp.
I keep several knifes on my boat and each has their purpose. Spend the extra and get the good one!

Maintain your knife and store it with the blade protected in a dry place in your boat.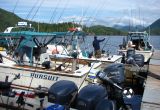 Kyuquot Summer Fishing Lodge Options
Located within minutes of the fishing grounds we are ready to serve you. All 3 night 4 day fully guided packages include meals, lodging and 4 days of incredible fishing. Be sure to check out our top of the line equipped boats!
Trip Details »
---