Stamp River Winter Steelhead Report
March 12, 2013
Perfect Water Conditions


The weather has finally started to cooperate for the river but it looks like it is a little late for the lower end. A few are getting into the river and are moving very rapidly through the system. There is a small school at the falls pool (3-5) but that is it for holding fish.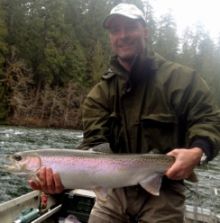 Our guys have been fishing the upper and this past week we have been able to get some fish for the brood stock program which is lacking in fish this year. The pictures here is one of a few that we put in tubes for the hatchery brood program.

I will be in the Scotty booth at the Edmonton Sportsman show this weekend if you want to stop by and say hello.
Unlike other guides on the Stamp we make sure that you catch the fish. Many of the other guides on the Stamp are great fisherman but I see more often than not they are hooking the fish and handing them off to there guests. Our guides will only fish if prompted by our guests and it doesn't happen very often.
We offer accommodations on the river as well as the best guides around. We supply all the equipment and everything you need for a successful day. Sign up for our newsletter or like us on Facebook and you will always have the latest information.
David Murphy
Call anytime for the latest conditions and reports

250-723-8022
murphy@island.net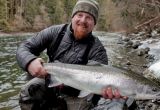 Winter Steelhead Fishing Options from $225
Fully guided day trips with all equipment. You set the agenda based on how many days you would like to fish!
Trip Details »