Transition Week Ucluelet to Kyuquot
June 17 2013
Kyuquot Fishery starting up!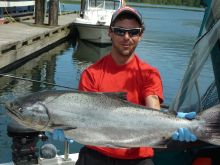 This week the guide team are making their transition to Kyuquot.

The fishery in Ucluelet remains very strong with good fishing in both Barkley Sound and offshore on the South Bank and further. The photo on the left is a nice fish caught by Ted Wong and that is his guide Kevin in the photo.

This past weekend there were over 70 boats on the South Bank off of Ucluelet while up in Kyuquot there were 4. Crew and Friends on site for set up in Kyuquot have been limiting out rather rapidly. So many chicken Halibut around they were almost a nuisance on Saturday!

We are super excited about this years changes to Wild Coho in Kyuquot! You can go home with Wild Coho as part of your Coho limits inside Kyuquot Sound (area 26)

Limits are very generous:
2 Chinook per day/4 possession
4 Coho per day/ 2 of which may be wild (inside area 26)
2 Coho per day/hatchery only (offshore area 126)
1 Halibut/2 possession / Slot limit requirements
3 Ling cod/ 6 possession
We have some trips still available for Kyuquot. Drop us a note for dates!
This will be 17 years for us fishing in Kyuquot Sound. There is no other better place to be as we meet the great migration of all Southern bound Chinook stocks along the shelf.
Many of these fish are southern migrating US origin Chinook. The runs are in the hundreds of thousands.
If you would like your "fish fix" between now and the time we start fishing, keep an eye on the Bonneville Dam camera on the Columbia River. Its these same fish that are making their way south.
The photo on the left a link to the online fish-cam, check back occasionally and schools will come through from time to time. Note that the camera goes offline from time to time, so check back.
We offer accommodations as well as the best guides around. We supply all the equipment and everything you need for a successful day. Sign up for our newsletter, or like us on Facebook and you will always have the latest information.
David Murphy
Call anytime for the latest conditions and reports

250-723-8022
murphy@island.net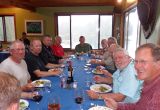 Kyuquot Sound Lodge
Nestled in the tiny village of Kyuquot, our land based lodge is just minutes to the fishing grounds. This location has 800 feet of water front, with plenty of room to stretch your legs. Your equipment and guides are top notch and the lodge accommodates up to 35 guests
Trip Details »