Kyuquot Final Week - Still in Peak Fishing
Aug 27 2013
Unusual back to back summer storms bring in more Chinook!

This summer has been unseasonably wet overall. The June season was rainy one and most of July was warmer but still a few south east storms.

The last 12 days we have seen four back to back Southeasters'. These are major lows that bring storm force winds usually reserved for Vancouver Island's wild west coast winters, not summers!

With those winds those came in big pushes of more mature Chinook, many heading to Vancouver Island local rivers.


Tammi and Greg had an amazing trip and got in on some great fishing! Congrats to the two of you!

We are heading home to Port Alberni this weekend and will be opening up the Stamp River Lodge next week to meet these same thousands of Coho as they enter their natal rivers.

Our latest newsletter is now available which also included the Fall River line up and next years Kyuquot 2014 calendar which is already over 70% pre booked.

For a real testimonial of this past weeks trip check out the online trip albums, here we post a variety of guest experiences all season long.



Limits are very generous: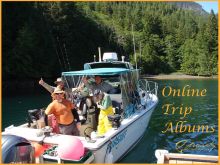 2 Chinook per day/4 possession
4 Coho per day/ 2 of which may be wild (inside area 26)
2 Coho per day/hatchery only (offshore area 126)
1 Halibut/2 possession / Slot limit requirements
3 Ling cod/ 6 possession
This will be 17 years for us fishing in Kyuquot Sound. There is no other better place to be as we meet the great migration of all Southern bound Chinook stocks along the shelf.
We offer accommodation, all meals in our guided packages as well as the best guides around. We supply all the equipment and everything you need for a successful day. Sign up for our newsletter, or like us on Facebook and you will always have the latest information.
David and Marilyn Murphy (brother and sister team)
Call anytime for the latest conditions and reports

250-723-8022
murphy@island.net

Whats up Next!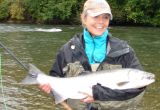 River Salmon & Steelhead Trips
Thousands of Salmon by your doorstep. Your package is customized to suit your schedule on your time. Five day specials including airfare or drive in day trips. Your trip - Your way - Great fishing and hospitality!
Trip Details »