Stamp River Coho Migration Continues Strong
Sept 12 2013
Morning Fog Gives Fish Cover for Migration

The migration trend continues to be on par with the early season indications over 28,000 Coho have gone through the Lower River so far.. Here is the latest observations:
Through Stamp Falls as of September 8, a total of 22,434 adult coho, 1140 coho jacks, 5099 adult Chinook, 195 Chinook jacks, 88,890 adult sockeye, and 93,470 sockeye jacks are estimated to have passed through the Stamp falls fishway.
Through Sproat River, A total of 6032 adult coho, 6 adult Chinook, 121,363 adult sockeye, and 331,895 sockeye jacks are estimated to have passed through the Sproat falls fishway.
Since September 2, daily escapement counts through the Stamp Falls fishway ranged between 255 and 510 adult Chinook, and 1023 and 2058 adult coho.
River temperatures over the past week have ranged between 18.9 and 21.0oC at the Stamp Falls fishway (Figure 4). The discharge rate is moderate.
Our first trips of the season have been great fishing with anglers have many hours of opportunity over top of migrating mature Coho Salmon. Mornings have been the best with another mid day push of fish coming through at tide change.
This week we have been fly fishing and sight casting to moving schools. Very exciting to be able to see the fish coming and step up for the cast. Since the cast is short it means that even novice fly fishermen have just as good of chance as a seasoned pro.
Also more Chinook than expected have been observed in the migration as well . With the lower Chinook run we let them pass by.
We offer accommodation, all meals in our guided packages as well as the best guides around. We supply all the equipment and everything you need for a successful day. Sign up for our newsletter, or like us on Facebook and you will always have the latest information.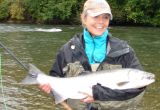 River Salmon & Steelhead Trips
Thousands of Salmon by your doorstep. Your package is customized to suit your schedule on your time. Five day specials including airfare or drive in day trips. Your trip - Your way - Great fishing and hospitality!
Trip Details »
David and Marilyn Murphy (brother and sister team)
Call anytime for the latest conditions and reports
250-723-8022
murphy@island.net