More Rains Moving in Fresh Coho Runs Daily
Sept 17 2013
Medium river levels and rain keep the Coho pouring in.

Rains again the past few days continue to push in big schools of mature Coho in the Stamp River system. An unprecedented catch yesterday that for three anglers was over 60 "hookups" Guests Colin and Michael from the UK said their arms were so tired they could hardly eat dinner back at the lodge.
| | | | | |
| --- | --- | --- | --- | --- |
| Two novice anglers from Mexico; Nora and Gaby had an amazing afternoon with numerous fish on several to the beach. They were both using fly rods and did fantastic. Coached by Guide Randy D. | | | | |
This past week the Riverside hosted a group of seven Japanese anglers who were fishing with a Japanese technique called "Long Poles." These 27 foot poles (collapsible) had line directly tied to the end of the poles. There is no reel in the equation.
When the fish would run, the angler holding the pole would run up and down stream with the fish and eventually steer it to shore to land it. The first 2 days was a learning curve as these Coho Salmon were the largest fish they have ever encountered with the "Long Poles" with most of the fish getting broke off at the leaders and a few broken "poles". By day three they were very successful. An amazing week for our guide team to experience this "ancient" fishing technique.

New Menu at Murphy's Riverside Lodge
This season brings fresh new
"Haute cuisine"
to the Riverside featuring Chef Matt Dunk. His five course gourmet preparations are being enjoyed by guests with rave reviews. Here is some samples from this weeks menu.
Fish Through the Counters
Through September 16, a total of 31,877 adult coho, 2114 coho jacks, 9877 adult Chinook, 346 Chinook jacks, 88,918 adult sockeye, and 93,492 sockeye jacks are estimated to have passed through the Stamp falls fishway. A total of 7769 adult coho, 6 adult Chinook, 121,458 adult sockeye, and 331,969 sockeye jacks are estimated to have passed through the Sproat falls fishway.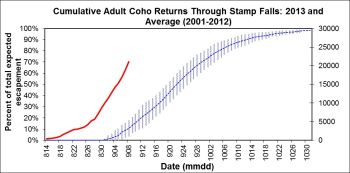 Since September 9, daily escapement counts through the Stamp Falls fishway ranged between 465 and 823 adult Chinook, and 792 and 2055 adult coho. Adult sockeye daily escapement since September 9 ranged between 0 and 18 at the Stamp falls fishway and between 2 and 48 at the Sproat fishway.
River temperatures have decreased in the past few days and over the past week have ranged between 18.4 and 21.7 C at the Stamp Falls fishway, and between 20.6 and 22.9C at the Sproat fishway (Figures 4 and 5). The discharge rate is moderate. The Chart above is "clickable" and it will load the full DFO River Observations Bulletin.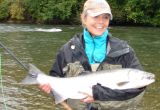 River Salmon & Steelhead Trips
Thousands of Salmon by your doorstep. Your package is customized to suit your schedule on your time. Five day specials including airfare or drive in day trips. Your trip - Your way - Great fishing and hospitality!
Trip Details »
We offer accommodation, all meals in our guided packages as well as the best guides around. We supply all the equipment and everything you need for a successful day. Sign up for our newsletter, or like us on Facebook and you will always have the latest information.
David and Marilyn Murphy (brother and sister team)
Call anytime for the latest conditions and reports
250-723-8022
murphy@island.net