Kyuquot Vancouver Island July 26 Fishing Report
Thick with Chinook
Fishing remains excellent. Guests leaving the lodge with close to limits or limits every trip. Chinook are thick as expected and the average size is PLUMP. The Chinook are on the shoreline now and thick to the edge with great productivity at the five mile mark.

Halibut remain larger than average compared to last year with some real hogs in the mix. Quality fish.

Ling Cod fishing is also better than last year with more and more every year. The biomass in the area is increasing in both size and quantity. We seen these big schools of what were imature ling cod settle into new habitat and are now getting larger by the year. Been a great season for "white fish" too!

Coho have not shown up in any degree of numbers yet....stay tuned!
Regulations
This season Kyuquot has seen some welcome regulation changes to the area. The benefits are two fold. First; more protection for local Kyuquot Chinook has been designed with the new closure of Rugged Point. This specific area is known to hold big dark Chinook staging to head up inlet.

On the other side of the coin, an area previously managed as a slot limit, has now been opened up to normal limits of Chinook. The area from Thornton Island through Spring Island through Double Rocks are previously know as the "corridor". With the run of the decade coming through, increased opportunities in this area will allow anglers to access those abundant migrating Chinook!

Halibut limits have changed a little. The large fish can be up to 133cm (70 pounds -ish) and the small one no greater than 83cm.


BOOK YOUR TRIP
This year Kyuquot is selling out fast and with this incredible news its a season you really want to be a part of.
Call anytime, day or evening 250-723-8022
www.facebook.com/murphysportfishing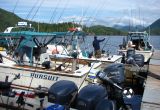 Kyuquot
On the Wild West Coast of Vancouver Island where the continental shelf meets the Island millions of Salmon migrate right by our doorsteps. You can be here too.
Trip Details »
David and Marilyn Murphy (brother and sister team)
Call anytime for the latest conditions and reports
250-723-8022
murphy@island.net
Professional Contributor to:

Fishtactics
~
Alberta Outdoorsmen Forum
~
Fishing with Rod
~
BC Outdoors Magazine
---