Mid November Stamp River Steelhead Report
November 26 2018 - Graphs Updated 1pm

River High - Fishing has been great/ River rising rapidly with rain fall

Overview
The fall season so far has been a good one with numbers of encounters and overall abundance of Fall Steelhead increased so far over recent years. Last week fishing was really good, but we were off the water this week for guide holidays. Guides are fishing again this weekend in the upper river.
The average return of Steelhead through the Stamp Falls counters to date are normally about 800 fish from June through October with highs over 2000 and lows around 600. This year we are told that over 3000 Steelhead have passed through the counters so far! Fishing has been excellent and seeing some reports and photos of big fish in the mix which indicates a good ocean survival.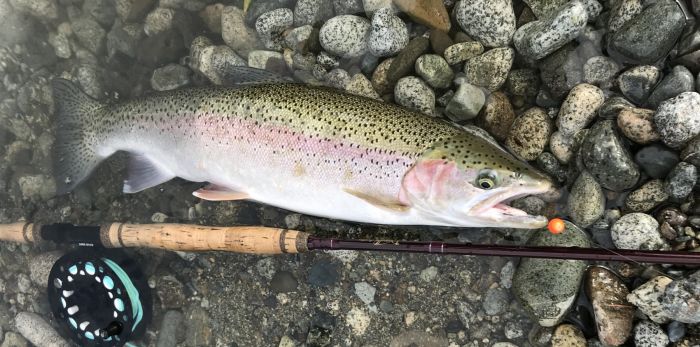 River Gauges
DFO has a series of gauges on the river which we utilize to share information on levels. There is the gauge at Robertson Creek, Stamp Falls and the Sproat River. Stamp Falls gauge is our key indicator that we follow to indicate trends. This gauge is below the confluence of the Ash and Stamp, so high higher volumes than the one at Robertson Creek which is on the very upper Stamp.
The other functioning gauge is the Sproat River. In high water conditions this is very helpful towards indicating the trend but it is a very short river with Sproat lake behind it. The Sproat River gauge which is a few km above where it empties into the Somass River.
For this snapshot I have included the month to date trend so you can see where we are relatively as well as the annual trend for big picture comparison. Updated river level reports can be generated at
http://www.pacfish.ca/wcviweather/
Weekly Weather Outlook



Our services are now on the "Winter Program" which mean day charters are available with our without accommodations. We do provide accommodations for those who require them with a full breakfast and boxed lunches.
Available Dates: Call for availability for now through February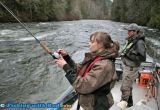 SMINTER STEELHEAD These Steelhead forage like trout before the middle of October and then completely switch to eating eggs when the Chinook salmon start to spawn. Day Charters only $450 for two persons!
Trip Details »
David and Marilyn Murphy (brother and sister team)
Call anytime for the latest conditions and reports
250-723-8022
murphy@island.net
Professional Contributor to:

Fishtactics
~
Alberta Outdoorsmen Forum
~
Fishing with Rod
~
BC Outdoors Magazine
---