Stamp River - Levels Dropping to Low & Clear
Clear and still dropping

Feb 25 2015



This weeks Highlights:
With the river continuing to drop and clear up the fish have become much more fussy. We had to work hard this past weekend but still managed good results.

Travis Lulay, quarter back for the BC Lions and Chris Burns, TV commentator and retired CFL veteran were filming a TV episode for Sport Fishing Adventures TV Show this past weekend.

They landed four and released six for the two days of fishing and they had a great trip. The TV show will air mid March so we will be sure to let you know when!

Thanks to guide Kevin Barabash, Camera Boat run by Sean Evans and a big shout out to the West Coast River Lodge for being such incredible hosts!
Current Conditions
:
River is heading into low status and is very clear right now. With minimal rain in the forecast gear down your presentation and head into "finesse" fishing mode. It is that time of year when some of the Summer runs will start to head back down stream after spawning, while at the same time the Winters are heading up stream . You will see a mix of fish through out the system now with still a few fresh ones coming in through the lower.

The river conditions graphs below are generated from the upper system near Robertson Creek Hatchery. The lower system is generally higher and has more color, however this data is still very useful as it will indicate the trend. The Stamp Falls data system was wiped out with the past flood and not hearing of any immediate plans for replacement.

Call us anytime for the latest conditions! We enjoy helping anglers plan their trips with or without guides.

This weeks weather forecast:


Stamp River Water Conditions (click on image to expand)

*Below are conditions for the Upper River. Middle river monitoring equipment washed out with flood.



2014 Regulations:
Hatchery Steelhead may be retained. Two per day and 4 in possession is the limits. A Steelhead conservation endorsement is required on the fresh water license. All Wild Steelhead must be released. single barbless hooks required.

Also note that your licence has to be printed. An electronic format on a device such as an iPhone does not qualify as licence. Steelhead must be recorded on licence immediately upon landing them.

Here are snippets from the Regulations about The Stamp, Sproat and Ash Rivers.






The detailed 2014/15 Vancouver Island detailed fishing regulations are available for download in PDF format.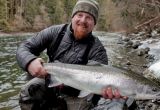 Winter Steelhead Fishing Options from $225
Fully guided day trips with all equipment. You set the agenda based on how many days you would like to fish!
Trip Details »
We offer accommodation, all meals in our guided packages as well as the best guides around. We supply all the equipment and everything you need for a successful day. Sign up for our newsletter, or like us on Facebook and you will always have the latest information.
David and Marilyn Murphy (brother and sister team)
Call anytime for the latest conditions and reports
250-723-8022
murphy@island.net
---