Flood Receding - No damages to Lodge
Highest levels since 1964

December 12, 2014
This morning it was a big relief to find the drift boat high and dry! The Somass River floodwaters have been slowly receding and have now dropped over four vertical feet since its peak at the lodge. Old timers in the neighborhood report this event was highest recorded river level they have witnessed since the tidal wave in 1964.

Access to the lodge has resumed and power will be restored soon. We were lucky that no water entered the main lodge, and there were no damages. Weekend Steelhead fishing trips have been postponed but expect to be regrouping early next week. Thanks to all for your well wishes and keeping your hopes up along with us. Will report again when we get back out on the water.

It is still in flood levels with major debris coming out. It is still in our back yard and not safe to be near it. We will update our fishing report page with river level charts/data when it starts to get close to fishable. We don't know if the data monitoring equipment got washed out with the flood, that is a possibility!

The report with photos during the flood is available here

This morning the boat was high and dry - Happy about that!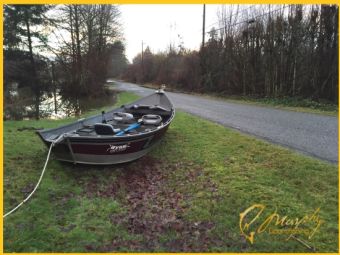 | | | |
| --- | --- | --- |
| | | |


The upper will clear up quicker with the area above the Ash River being the first. The lower river will take more time to clear up. Stay tuned!
This weeks weather forecast:


Stamp River Water Conditions (click on image to expand)

*Stamp River unavailable at this time, perhaps equipment was washed out with flood?


2014 Regulations:
Hatchery Steelhead may be retained. Two per day and 4 in possession is the limits. A steelhead conservation endorsement is required on the fresh water licence. All Wild Steelhead must be released. single barbless hooks required.

Also note that your licence has to be printed. An electronic format on a device such as an iphone does not qualify as licence. Steelhead must be recorded on licence immediately upon landing them.

Here are snippets from the Regulations about The Stamp, Sproat and Ash Rivers.






The detailed 2014/15 Vancouver Island detailed fishing regulations are available for download in PDF format.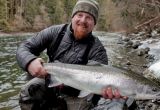 Winter Steelhead Fishing Options from $225
Fully guided day trips with all equipment. You set the agenda based on how many days you would like to fish!
Trip Details »
We offer accommodation, all meals in our guided packages as well as the best guides around. We supply all the equipment and everything you need for a successful day. Sign up for our newsletter, or like us on Facebook and you will always have the latest information.
David and Marilyn Murphy (brother and sister team)
Call anytime for the latest conditions and reports
250-723-8022
murphy@island.net
---