Stamp River Steelhead Fishing Report
Dec 7 2016

River medium height, good shape, Fresh Fall Steelhead

This week the river has been in great shape and have been fishing the upper river with some beautiful fall Steelhead in the catches of 3-5 per day. Today we moved a boat into the lower river in anticipation of some more fresh "Sminter" Steelhead that should be coming in any moment!
Rumor has it a few chrome beauties have come out of the lower yesterday. Will give you an update in the next few days. But in the meantime, with the great weather and cold snap the river should remain in shape for the foreseeable future. There is very little effort at the moment so a great time to be on the river.
River Gauges
In the images below we have selected a two month period so you can see how high the river was this fall. It is not low now, it is medium. Although relative to the flood conditions for those several weeks, the trend looks low, but really it is just back to normal.
DFO has a series of gauges on the river which we utilize to share information on levels. The equipment at Stamp Falls have been removed during the last high water event to prevent damage. So for an indicator we are looking at Robertson Creek Hatchery which is on the very upper Stamp River. This is the headwaters for the system, so its very helpful to indicate early trends. Keep in mind that a lot of other tributaries join the Stamp system below this gauge.
The other functioning gauge is the Sproat River. In high water conditions this is very helpful towards indicating the trend but it is a very short river with Sproat lake behind it. The Sproat River gauge which is a few km above where it empties into the Somass River.
Weekly Weather Outlook



Our services are now on the "Winter Program" which mean day charters are available with our without accommodations. We do provide accommodations for those who require them with a full breakfast and boxed lunches.
Available Dates:
There are boats available in both the upper and the lower. Give us a call. We are not fishing Christmas Eve, Christmas Day, Boxing Day and New Years day.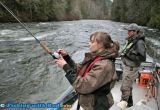 SMINTER STEELHEAD These Steelhead forage like trout before the middle of October and then completely switch to eating eggs when the Chinook salmon start to spawn. Day Charters only $450 for two persons!
Trip Details »
David and Marilyn Murphy (brother and sister team)
Call anytime for the latest conditions and reports
250-723-8022
murphy@island.net
Professional Contributor to:

Fishtactics
~
Alberta Outdoorsmen Forum
~
Fishing with Rod
~
BC Outdoors Magazine
---