Ucluelet and Barkley Sound Fishing Report
May 27 2019

Chinook and Halibut Fishing is on now!
West Coast Vancouver Island 2019 Fishing Outlook / Regulations (link):
The bite is on in Barkley Sound and its been a great few weeks!

Lots of bait inshore so the fish are on the bite. Trolling using downriggers, right above the bottom has been the most productive depth.

Green or Blue flashers with small spoons have been working well as has anchovies. But when the bite is on spoons are far more productive instead of working bait.

Offshore Ucluelet is also producing Halibut now as well with the absolute perfect size showing up in the mix!

Both Shaun and Kevin have available dates still through mid June so give us a call and request your favorite guide!

Photos Courtesy of guide Shaun Evans.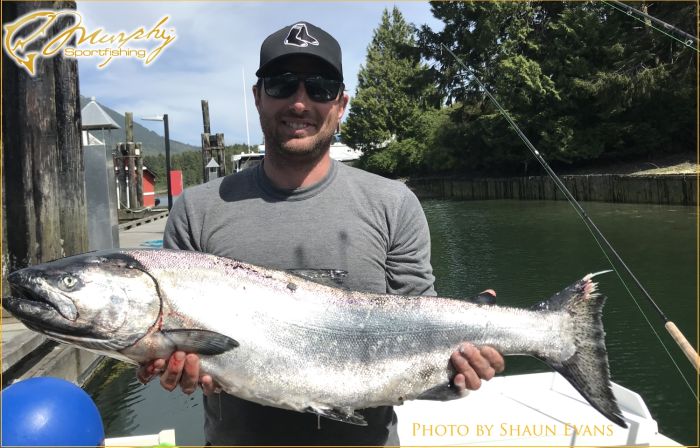 Our daily plan will vary depending on the weather, but heading offshore to get Halibut, then back nearshore and inshore to target Chinook Salmon and Ling Cod.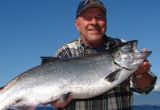 Ucluelet Spring Guided Fishing Options
Vancouver Islands best early season fishery for April and May. Salmon and Halibut aggressively feeding on the coastal banks and inshore waters of Barkley Sound. Book by the day means you can set your own agenda!
Trip Details »
We have more good news on the Halibut limits this year as well! A larger halibut can be retained up to 60 pounds. See the details below.
While there are some big changes to Chinook fishing in most of Southern BC, we are very fortunate due to local abundances of non Fraser River origin, that the inside and nearshore waters of Areas 23-27 and 1NM into that portion of 123-127 remain Chinook retention at normal limits . Ucluelet and Kyuquot will be a bright light on the BC coast this year.
2019 Limits by Species WCVI Ucluelet Area
(stat area 23/123)
2018 Daily limit
Trip Limit
Comments

HALIBUT

:
1 per day
1 in possession if
90 to 126 cm (aprx 60 pounds) (aprx 60 pounds)
(Tubby Turkey)
OR
OR
1 per day
2 in possession
under 90 cm (aprox 20 pounds ea)
(Chunky Chickens)
Must Record length on license Immediately

CHINOOK SALMON:

2 per day
4 in possession
Must record on license immediately.
Inshore: Area 23, Ucluelet, Bamfield, Port Alberni. 2 per day inshore all season

Nearshore: Area 123 < 1nm, 2 per day all season

Offshore: Area 123> 1nm non retention until July 14th

Offshore: Area 123 > 1Nm retention 2 per day resumes July 15-Dec 31

COHO SALMON

2 per day
4 in possession
Offshore in area 123 Hatchery Only
Inshore in area 23 Hatchery or Wild

LINGCOD

2 per day
4 in possession
Not required to write on licence on WCVI
ROCKFISH

Learn More About Rockfish Recompression
3 per day (aggregate of all sub species)
6 in possession TOTAL
In aggregate - see individual species limits
Sub Species in Kyuquot area:
Canary Rockfish 3 per day
6 in possession
As part of the overall limit
Vermilion Rockfish 3 per day
6 in possession
As part of the overall limit
Black Rockfish (Sea Bass) 3 per day
6 in possession
As part of the overall limit
Quillback Rockfish 1 per day
2 in possession
As part of the overall limit - try to avoid
China Rockfish 1 per day
2 in possession
As part of the overall limit - try to avoid
Tiger Rockfish 1 per day
2 in possession
As part of the overall limit - try to avoid
Yellow Eye Rockfish- ZERO
ZERO
must be live release and avoided
Boccaccio Rockfish - ZERO
ZERO
must be live release and avoided
Click map to expand and zoom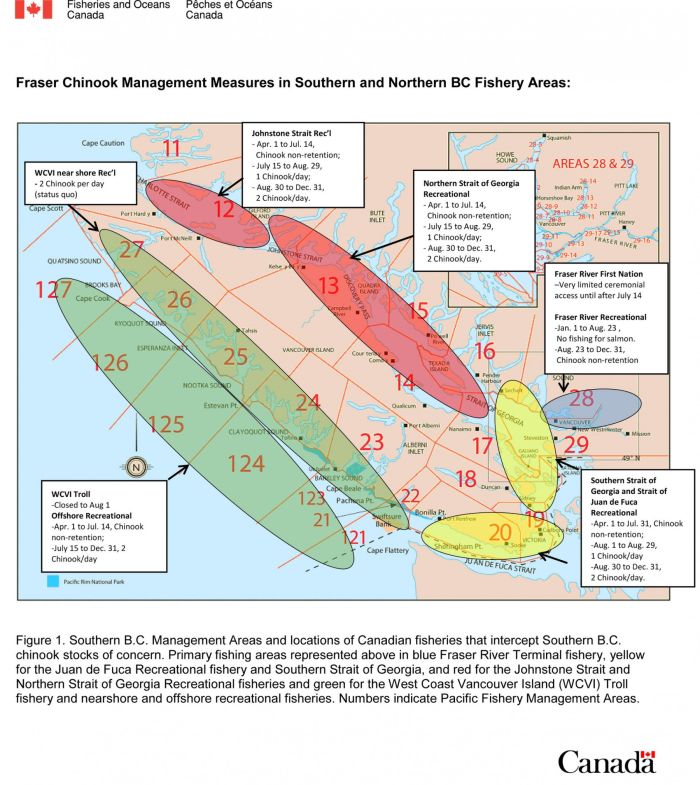 Call anytime for the latest conditions and reports
250-723-8022
murphy@island.net
Professional Contributor to:
Fishtactics
~
Alberta Outdoorsmen Forum
~
Fishing with Rod
~
BC Outdoors Magazine