2020 Pre Season Outlook
We are readying for the summer!
Our operations are readying for the summer and we can't wait!
The Salmon and Halibut is just a few weeks away as we start our fishing operations in Ucluelet. While we wait patiently for the Province to announce Phase 3, which allows for more travel around the province..
We want to reassure you that we will be here when things get back to normal, even if its a new normal.
As BC kick starts it's BC ReStart efforts, travel and tourism are on the agenda for June 2020. To provide you confidence with your fishing trip planning we want to assure you of
our flexible approach to this issue
. Until then, we are looking forward to the "New Normal". We trust the science that Dr Henry and her team at the BC Health Office are utilizing and will be guided by her advice and local community considerations moving forward.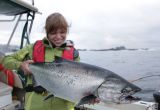 Kyuquot Sound Lodge
Nestled in the tiny village of Kyuquot, our land based lodge is just minutes to the fishing grounds. This location has 800 feet of water front, with plenty of room to stretch your legs. Your equipment and guides are top notch and the lodge accommodates up to 35 guests
Trip Details »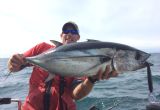 Offshore Tuna Fishing Trips
Thirty miles offshore during a small window every summer thousand and thousands of Albacore Tuna are thriving with our reach by speed boat. Using commercial style gear and fishing the same grounds you too can experience a fishing event of a lifetime!
Trip Details »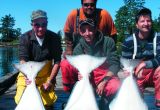 Kyuquot Shared Fishing Trips
An incredible fishery value priced with the best equipment available on the coast. If you a single or a pair of anglers looking to share a triple occupancy trip rate then this package is for you. Dates will be updated as availability changes
Trip Details »
Call anytime for the latest conditions and reports
250-723-8022
murphy@island.net
Professional Contributor to:

Fishtactics
~
Alberta Outdoorsmen Forum
~
Fishing with Rod
~
BC Outdoors Magazine
---