2021 Pre Seaon Outlook
Now Booking
We are readying for the summer!
Our operations are readying for the summer and we can't wait!
The Salmon and Halibut is just a few weeks away as we start our fishing operations in Ucluelet in early May and our summer operation in Kyuquot in mid June.
As with the rest of your, we wait patiently for the spring to descend upon the province of BC and the anticipated risks of the pandemic to begin to diminish. We are also happy to hear the western provinces vaccinations plans are underway and that the average age of our "angler demographic" looks promising for summer.
At the time of writing we are welcoming reservations for domestic Canadian travel only. We will be welcoming international travel reservations only after such a time when the borders re open with certainty.
As BC kick starts it's BC ReStart efforts, travel and tourism are on our agenda!. To provide you confidence with your fishing trip planning we want to assure you of
our flexible approach to this issue
. Until then, we are looking forward to the season. We trust the science that Dr Henry and her team at the BC Health Office are utilizing and will be guided by her advice and local community considerations moving forward.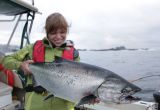 Kyuquot Sound Lodge
Nestled in the tiny village of Kyuquot, our land based lodge is just minutes to the fishing grounds. This location has 800 feet of water front, with plenty of room to stretch your legs. Your equipment and guides are top notch and the lodge accommodates up to 35 guests
Trip Details »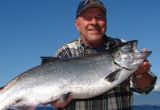 Ucluelet Guided Day Trips
Vancouver Islands best early season fishery for April and May. Salmon and Halibut aggressively feeding on the coastal banks and inshore waters of Barkley Sound. Book by the day means you can set your own agenda!
Trip Details »
Call anytime for the latest conditions and reports
250-723-8022
murphy@island.net
Professional Contributor to:

Fishtactics
~
Alberta Outdoorsmen Forum
~
Fishing with Rod
~
BC Outdoors Magazine
---