Stamp River Steelhead Fishing
Summer and fall Steelhead continually enter the Stamp river from July throughout November. These Steelhead move quickly through the lower portion of the river and take up residency in the upper part of the river, for up to six months before spawning.

Oct 15 to Dec 15 Annually.
These Steelhead forage like trout before the middle of October and then completely switch to eating eggs when the Chinook salmon start to spawn. From this point on they are all about getting eggs off the bottom and their focus keeps them glued to the spawning salmon areas. After every rain event, heavier currents will wash out the unfertilized eggs that naturally float out of the gravel.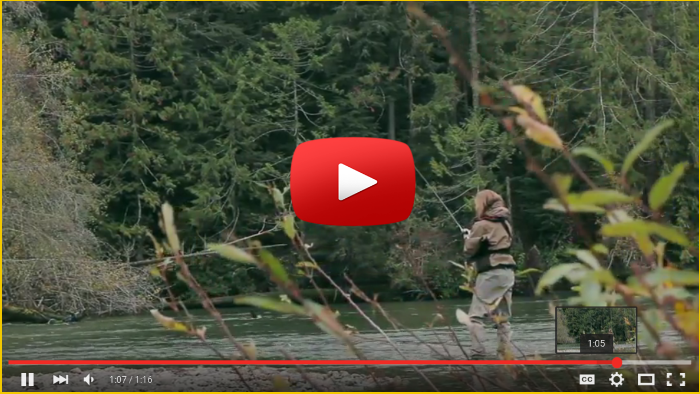 Fly Fishing or Gear Fishing
They will take a fly under a strike indicator, but won't come to a fly on the swing. The big days are on gear rods fishing with a float. For fish numbers this is actually the best Steelhead fishing of the year. The numbers are consistently better than winter Steelhead but the bullet Chrome fish are few and far between. Not to say there are none, but the bulk of the fish have a bit of color with pink rosey cheeks, classic Steelhead.
| | | | | |
| --- | --- | --- | --- | --- |
| Steelhead will get very aggressive during this period with their noses in the gravel. | | | | The best fishing is from October 15 to Dec 1 and it has various peaks on every significant rainfall. |
| | | | | |
| | | | | |
"Sminter Runs"
This is not typo, it is a new word combining Summer and Winter run Steelhead into another distinct run timing.
Over the past ten years brood stock capture has been done in the upper part of the river where it is often hard tell what fish is which. Over time a mix of summer/fall fish have been mixed in with the winter brood stock program. We now have a new run that we call Sminter runs, which are a cross between the two distinct Steelhead returns to the Stamp.
These fish show up in late November and early December. We catch these fish in both the lower and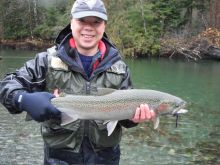 upper river depending where the food source is, when they arrive into the river.
The large chum population that spawns in late October and November, leaves a lot of eggs floating around the lower part of the river and many of these "Sminters" will locate themselves around the confluence of the Sproat and Stamp Rivers. They are mint bright and generally called early winter Steelhead. These fish are caught best on a roe bag with Chum or Chinook eggs.