Great Recipes

How To Cook Whitefish
What is the "best" way to cook Halibut and
Ling Cod?
We eat white fish twice a week at home and it really doesn't matter how we cook it. Prepping the fish is what makes all the difference.
The regulations require that the skin be left on all fish for transportation. The skin can be the "culprit" when it comes to fish not tasting as good as it should.
These simple steps will ensure your catch tastes fantastic each time, even when approaching a year in the freezer! Vacuum pack using heavy packaging. This prevents freezer burn, which will ruin any fish.
Thawing:
Cut open the bag in a corner or slot on the top and thaw completely in a refrigerator. For us this means taking it out the night before use.
Rinsing:
(Key Step) Rinse the fish thoroughly with cold water. Use a piece of paper towel to wipe it off and pat it nearly dry again. If you smell the fish before and after rinsing you will notice a big difference.

Dealing with the skin:
With a sharp knife remove the skin before cooking. If you find that it is too much of a battle and you loose good meat, its ok!
You can cook with the skin on
but, there is a trick.
Cooking with skin on:
Season the pan with a layer of olive oil. Use a little paper towel to make sure the pan or barbeque grill is nicely covered. If you're using a pan, this is when you add your seasoning and spices. Anything goes! Rosemary, garlic, seasoning salt, etc.
Heat the pan up so its hot, we use 3/4 on the electric stove top.
Place the fish skin side up (meat side down) in the pan and sear for about 2 minutes. This makes a bit of a crust on the meat with the seasoning, so it holds in the moisture and flavors.
Now add a little water, just enough to cover the bottom of the pan, and cover with a lid. Continue to add a little water as it evaporates. This steaming/grilling really adds the seasoning to the meat and helps cook it all the way through.
Soon you will notice the skin on the top has started to shrink from the edges of the filet and curl at the corners, this is the time to remove it. Peel it back easily and discard!
Rub in a little olive oil the top of the filet and season it as well.
Now turn the filet over and cook the other side. It will be ready when you see the striations in the meat easily flake apart when pried lightly with a fork.
How long to cook depends on the filet size. Total of 10-20 minutes we find.
Our own general rule, is we avoid having the meat touch the cooking surface after the skin has been on it. Enjoy!
Download a printable version ►
Amazing Salmon Recipe - "Salmon Saltembocca"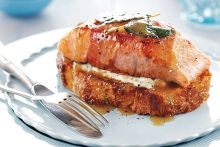 Huge hit at our Stamp River Lodge
Ingredients
:
4 heads garlic
6 tbsp (75 mL) roasted garlic oil or extra-virgin olive oil
4 salmon fillets, (6 oz/170 g each), about 1/2 inch (1 cm) thick
1/3 lb (151 g) prosciutto, thinly sliced
20 fresh sage leaves
4 slices (3/4 inch/2 cm thick) rustic French bread, (not baguette)
6 tbsp (75 mL) butter
3/4 cup (175 mL) Sauvignon Blanc or dry white wine
Fresh Garlic Aioli: (this section is optional)
4 cloves garlic, chopped
1 egg
1 tbsp (15 mL) lemon juice
1/2 tsp (2 mL) salt
1 pinch pepper
1/2 cup (125 mL) light-flavoured olive oil
Preparation
Cut tops off garlic heads, exposing cloves. Place in baking dish; drizzle with 3 tbsp of the garlic oil. Bake in 350°F (180°C) oven until tender, about 1 hour. Let cool slightly; slip cloves out of skins and set aside.
(Make-ahead: Refrigerate in airtight container for up to 24 hours.)

Fresh Garlic Aioli:
Meanwhile, in food processor, purée garlic, egg, lemon juice, salt and pepper until smooth. With motor running, slowly add oil in steady stream until thickened and opaque. Transfer to small bowl and refrigerate.
(Make-ahead: Refrigerate in airtight container for up to 2 days.)
Wrap each fish fillet in prosciutto, leaving loose ends on bottom. Place 2 sage leaves on top of each fillet and secure with toothpicks.
Heat nonstick skillet over medium-high heat. Brush remaining garlic oil on both sides of bread; fry, in batches, until golden brown on both sides, about 1 minute per side. Remove from pan and keep warm on baking sheet in 200°F (100°C) oven.
Wipe out skillet with paper towel. Add 2 tbsp of the butter and heat over medium-high heat until beginning to foam. Add fish, sage side down; cook for 2 minutes. Gently turn; cook until prosciutto is crispy on bottom, about 2 minutes. Remove toothpicks from fish. Place fish on ovenproof platter and keep warm in oven.
Wipe out skillet with paper towel. Add remaining butter and heat until starting to brown. Add wine and roasted garlic; cook for 1 minute. Reduce heat to low; keep sauce warm.
To serve, spread 2 tsp of the garlic aioli on each slice of toast. Place 1 slice on each of 4 plates. Place fish on top.
Divide sauce among plates, drizzling on fish and around toast. Serve with remaining aioli. Garnish with remaining sage.
**Murphy Tip – Don't sweat the Aioli sauce if you don't have the time. The sauce is wonderful to add but the fish done without it is still wonderful and is a quick dish! Enjoy.
Download a printable version ►