Kyuquot Salmon Fishing
The salmon spend a lot of time feeding here in Kyuquot before their migration south. Often we see runs come and go weekly and often they seem to be stalled here (A lot of them). We can tell when different runs come through by some of their distinct shapes and sizes.
The gravel ridge just outside of Kyuquot is a permanent home to a large abundance of Needlefish. The size of the salmon so far, on average, is about 3 pounds heavier than last year so far. Currently we are also fishing near shore and last night a couple of really nice Chinook came out of that area.
Trolling needle fish hootchies or small blue/silver coyotes (size 3.5) behind flashers has been the best bet. No need to fish bait since the salmon keep us pretty busy without it. This time of year we are fishing right on the bottom all the time for salmon. Ling Cod fishing just never seems to alter here, its still as good as its always been.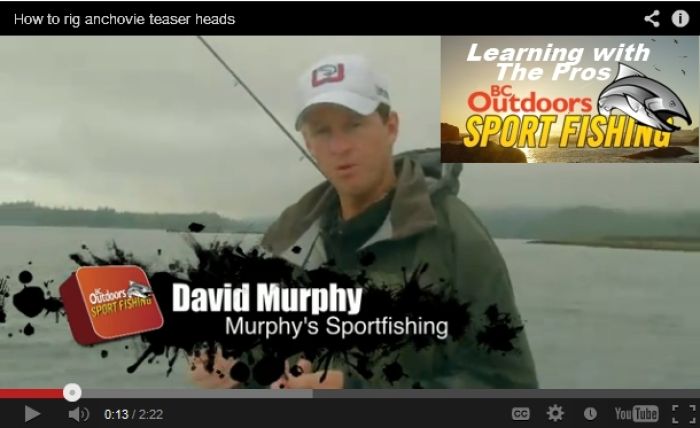 Mixed Stocks of Abundant Salmon
The peak numbers for all Chinook Salmon migrating down the coast are mid June to end of the first week in September. They start to fully mature at the end of summer and are not as aggressively feeding as they are in July and August when they are still putting on weight. By mid September the Chinook are no longer feeding and they are relying on the mass that they built up during the summer. These fall run Chinook then enter their home rivers which is the same time we transition our guiding services back onto the
Stamp River
.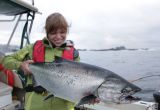 Kyuquot Sound Lodge
Nestled in the tiny village of Kyuquot, our land based lodge is just minutes to the fishing grounds. This location has 800 feet of water front, with plenty of room to stretch your legs. Your equipment and guides are top notch and the lodge accommodates up to 35 guests
Trip Details »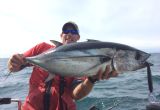 Offshore Tuna Fishing Trips
Thirty miles offshore during a small window every summer thousand and thousands of Albacore Tuna are thriving with our reach by speed boat. Using commercial style gear and fishing the same grounds you too can experience a fishing event of a lifetime!
Trip Details »